Regina De Almeida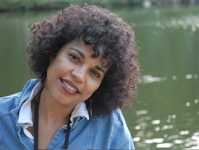 Born in 1962 in Belo Horizonte in Brazil.
Film-maker, film educator and a production manager.
Diploma in journalism, video, Master's Degree in ethnology and expert in cultural anthropology.
Coordinate the audiovisual activities of the prisons of Strasbourg and Ensisheim (prison for long sentences).
Film educator at the University of Strasbourg for the Master's Degree in scientific and technical communication and in the cinema classes of the Henri Meck secondary school in Molsheim.
Filmography :
Emilio from Hohwald - documentary - 52' (2003). Broadcast : France 3 Alsace, France 3 National. Selected at the Festival des Trois Continents in Nantes in 2003.
Neither tourists...nor visitors... residents - documentary - 13' (1999). Broadcast : France 3 Alsace and the Council of Europe.
Brazil, the citizen child - documentary - 20' (1996). Broadcast : Brazilian television.
When she arrived in Strasbourg in 1986, she co-founded Corina International in 1988: a production company specializing in the fields of Europe, education, public health and environment, where she assumed the position of production manager.
At the same time, she works as a freelance journalist for the DNA and as a production manager for other production companies including Arte ("soirées Théma").